Kidspiration®
Kidspiration is a visual learning (concept mapping) software program designed for K-5 learners. (Inspiration is the comparable application for use with older students.)
A free trial download is available.
Kidspiration uses visual learning techniques to help students:
Brainstorm

Organize

Plan

Create
What is visual learning (concept mapping)?
Students work with ideas graphically, which helps them see relationships– they can see how ideas are connected, as well as any patterns that may exist. This approach encourages them to clarify and organize their thoughts. It also stimulates and reinforces understanding. Kidspiration helps develop and reinforce emerging literacy skills by showing the connections between words and their meanings as students can switch back and forth between the "picture" and "writing" mode in the Kidspiration program. Students gain confidence in creating stories.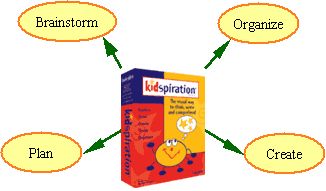 Why visual learning?
Research shows that visual learning is effective in getting students to understand and retain ideas. It increases the opportunity to tap additional/alternative learning styles (multiple intelligences).
How can teachers and students personalize and enhance learning using Kidspiration?
Teachers can create and add their own activities for students to use.
Many resources and examples of the ways to use Kidspiration are available on the web

Activities (K-2, and 3-5) for various curriculum areas are included in the program
The symbol library may be customized by importing/adding images
Students and teachers may also create (draw) and use their own symbols/images
How easy is it to learn to use Kidspiration?
Kidspiration is incredibly easy and intuitive to use – easy for kids and easy for teachers.
The software comes packaged with a User's Guide

An Interactive Demonstration and a Training CD is available

A Kidspiration Lesson Plan Book (utilizing activities that are aligned with standards) is available (extra).

Many free tutorials (including video) are also available on the Internet
Take a quick tour of Kidspiration
Go to START>PROGRAMS>KIDSPIRATION 2
The first screen you will view is the Kidspiration Starter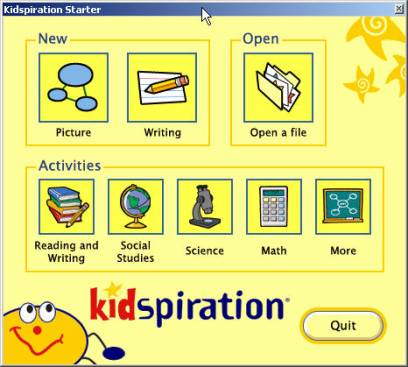 3. Here you have a choice to
Start a new document by either

Starting Kidspiration in the Picture mode
Starting Kidspiration in the Writing mode
You can switch between the picture and writing mode at any time
while working on a document. They are just two different ways of
looking at the Kidspiration document

Open an existing document
Choose an activity that has been built in or added to the program by a teacher
Quit the program
4. Look at Picture mode to get an overview of the workspace
5. Students may drag symbols from the symbol library to the workspace to link ideas, import a graphic (using file menu), or create their own symbols with the Symbol Maker

6. Symbol Maker workspace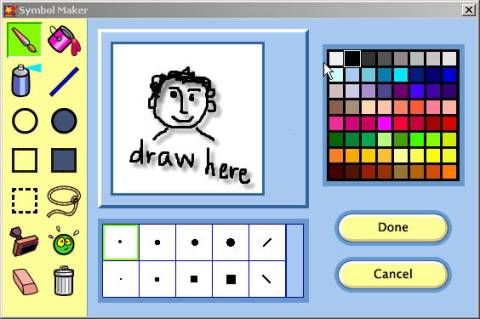 In the Symbol Maker workspace, learners can draw their own symbols. The drawing tools are similar to those in other graphic programs and introduce students to those tools in a simplified environment.

7. Teacher Menu Options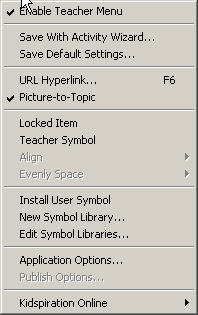 Using the Teacher Menu, teachers may create a new symbol library, edit an existing symbol library, save new teacher created activities, and set preferences for a number of application options.





8. The work in Kidspiration may be exported to a word processor, the web, or as a graphics file.

Example 1. -- Picture Mode to a jpeg: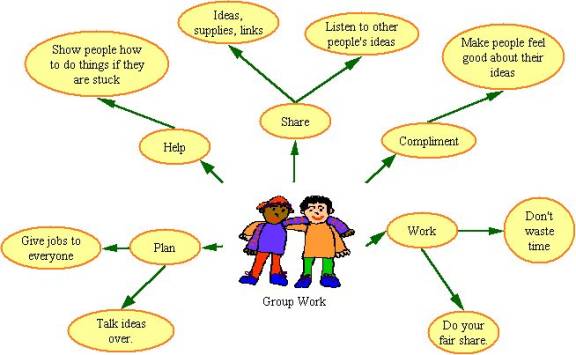 Example 2. -- Writing mode to a Word document:

Group Work

Plan

Talk ideas over.

Give jobs to everyone

Help

Show people how to do things if they are stuck

Share

Ideas, supplies, links

Listen to other people's ideas

Compliment

Make people feel good about their ideas

Work

Do your fair share.

Don't waste time

9. Video Tutorial for Kidspiration1 from Atomic Learning Library -- this is an excellent free "step-by- step" walk- through of how to use the many features of Kidspiration. Even if you are using Version 2, take a look (http://www.atomiclearning.com/freekidspc.shtml).

Kidspiration 2 video tutorials (no audio): 1. Starter, 2. Quick Tour, 3. Working in a Kidspiration Document ,
4. Using the Symbol Maker, 5. Adding a Hyperlink, 6. Using the Super Grouper
Note: Save file first, then open -- use Windows Media Player 9 (wmv media)

10. Additional Web Resources for using Kidspiration -- tutorials, examples, lessons, activities, and tips
NCCS Technology Tutorials – Kidspiration http://www.northcanton.sparcc.org/%7Etechnology/Tutorials/kidspiration.html
NCCS Staff-made Kidspiration Collection http://www.northcanton.sparcc.org/~ptk1nc/kidspired2002/

http://www.northcanton.sparcc.org/~technology/activities/index.html
NCCS Kidspired Activities http://www.northcanton.sparcc.org/~ptk1nc/kidspired2002/samples.html
NCCS Kidspired Tales http://www.northcanton.sparcc.org/~ptk1nc/kidspired2002/
Beyond the book http://eduscapes.com/sessions/bike/bike7.htm
Early Childhood Technology Literacy Project http://www.mcps.k12.md.us/curriculum/littlekids/downloads/kidspiration/index.html
Using Kidspiraton for Early Literacy http://placemark.tomsnyder.com/servlet/com.iteach.wpbsrv.Preview?Action=OnlinePreview&Part=AllParts&NewsletterNo=17626&UU=1075049182657
Kidspiration Skills Assessments http://www.mccsc.edu/howto/self.html#KID
Tech4Learning " Kidspiration How to's" http://www.tech4learning.com/snacks/kidspiration.html
OCSD Using Kidspiration http://www.oswego.org/staff/cchamber/inspire/kidspiration.htm
OCSD Kidspiration Links http://www.oswego.org/staff/cchamber/inspire/links.htm#kids
OCSD Kidspiration Example
Teacher Examples http://edservices.aea7.k12.ia.us/edtech/classroom/visual/tchrexamp.html#Anchor-Languag-3592
Graphic Organizers Teacher Examples http://edservices.aea7.k12.ia.us/edtech/classroom/visual/tchrexamp.html
Lesson Using Kidspiration http://comsewogue.k12.ny.us/~ssilverman/kid/about.htm
Kidspiration Templates http://www.globalclassroom.org/together/kidspiration.html
Ideas for Using Kidspiration http://pt3.sbu.edu/TechProjects/SpecificSoftware/Kidspiration.htm
© Joel Black 2004
TED510 Class Presentation Resource